Welcome to
Second Chances SA
Second Chances SA is a Christian non-profit organisation, based in South Australia, dedicated to helping prisoners and their families who want to turn their lives around.
We understand that people make bad choices and that there are consequences, but we also know people can change. We all need a Second Chance from time to time.
Our programs are custom-designed to equip prisoners and their families with the tools they need to create better lives for themselves.
Christmas Angels 2016
Will you help us continue the Christmas tradition? Every year, Second Chances SA delivers presents to over 500 children with a parent in prison as part of our Christmas Angels program. We want these children to feel accepted and not forgotten this Christmas – will you help us?
Click here to donate today.
'Restoring' Summer 2016/2017 Newsletter (PDF)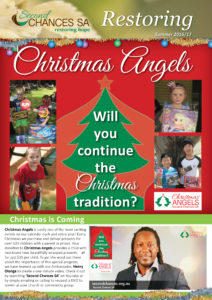 Christmas Angels Brochure (PDF)