Welcome to
Second Chances SA
Second Chances SA is here to help prisoners who want to turn their life around, and their families who are too often paying a high cost for their loved one's poor choices.
We know that people make bad choices and that there are consequences, but we also know people can change. We all need a Second Chance from time to time. When someone makes a decision to turn over a new leaf, then we are there to help them do that.
Please take the time to read about what we do, how we help people to make a fresh start after leaving prison and how we help children to stay away from crime.
2016 Newsletters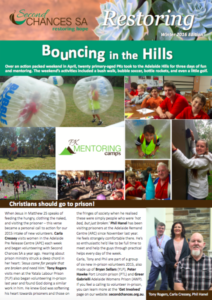 Click to view our Winter 2016 Newsletter
Help us restore hope today!