Welcome to
Second Chances SA
Second Chances SA is a non-profit volunteer organisation dedicated to giving people a 'second chance' in South Australia.
We help prisoners turn their lives around so they don't go back to crime. At the same time we divert prisoners' kids (PKs) from entering Juvenile Detention through early intervention programs.
Our programs are custom-designed to equip prisoners, their children and whole families to create better futures for themselves.
Highlights of 2017
Winning GOLD in Canberra
Second Chances SA has won GOLD at the 2017 Australian Crime and Violence Prevention Awards (ACVPA) in the community-led category in Canberra. The award comes in recognition of 'Prisoner's Kids: The Invisible Victims of Crime,' a uniquely South-Australian initiative to divert prisoner's kids from detention. Read the full Media Release here.
Autumn 2018 Newsletter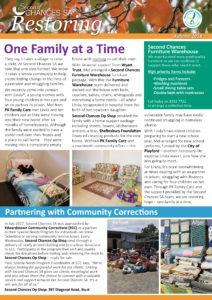 Read the full PDF here