Welcome to
Second Chances SA
Second Chances SA is a non-profit volunteer organisation dedicated to giving people a 'second chance' in South Australia.
We help prisoners turn their lives around so they don't go back to crime. At the same time we divert prisoners' kids (PKs) from entering Juvenile Detention through early intervention programs.
Our programs are custom-designed to equip prisoners, their children and whole families to create better futures for themselves.
'South Aussie with Cosi'
We teamed up with 'South Aussie with Cosi' to take a special group of kids and youth with a parent in prison on a very special weekend adventure. This is their story…
Three Years On (2015-2018) Report
In celebration of our first three years as Second Chances SA, we've released Three Years On – a 12 page document highlighting some of our most exciting moments and achievements since launching as Second Chances SA in 2015.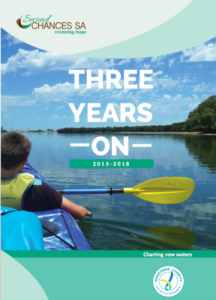 Read the full PDF here.