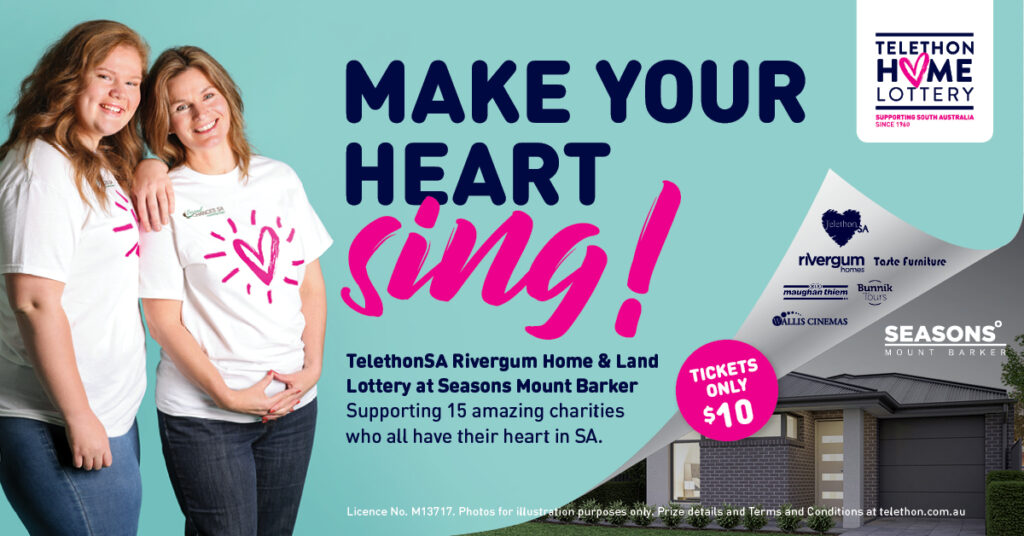 This year, Second Chances SA is excited to be one of 14 supported South Australian charities benefitting from this year's TelethonSA Rivergum Home & Land Lottery at Seasons Mount Barker.
To get yourself in the draw for some amazing prizes – all while supporting a great South Australian cause – find out how and where to buy your tickets (just $10 each) below:
To buy your tickets online, CLICK HERE.
Tickets available at:
Second Chances Op Shop: 397 Diagonal Road, Sturt
Second Chances Furniture Warehouse: 131 Richmond Road, Richmond
To buy your tickets over the phone, call us at (08) 8272 0323.
Prizes
1st Prize: A Rivergum Home at Seasons Mount Barker furnished by Taste Furniture valued at $394,950 or $200,000 cash
2nd Prize: KIA Cerato S Auto Hatch from Maughan Thiem KIA valued at $28,059
3rd Prize: $10,000 cash
4th Prize: Wallis Cinemas Gold Pass valued at $1,200
Book Buyers Prize: $5,000 cash
Early Bird Prize: Bunnik Tours 13 Day Vietnam Tour valued at $9,000 plus $5,000 cash (for tickets purchased by 11.59pm Sunday 3 November, 2019)